Home
The Next Street Fair Is On June 25, 2022!
Get Ready for Another Blockbuster Entertainment Event!
8th Annual Pleasure Point Street Fair
to Benefit the Live Oak Education Foundation

Pleasure Point will be buzzing as the community takes to the street to enjoy the Pleasure Point Street Fair. Next year's event will be held on Portola Drive between 41st and 38th Avenues, Santa Cruz, from 11 am – 6 pm with bike parking available, and admission is free.
We are pleased to announce that some of the proceeds will be donated to the Live Oak Education Foundation.
Great Music: A total of eight local bands will perform a variety of styles of music on two stages including Americana, Blues, Rock, Reggae and Surf Music.
Fun for Kids: The kid's zone will feature a variety of activities provided by local organizations including crafts, face painting and henna.
Skateboard Contest: Watch talented and daring kids compete in the contest run by the Santa Cruz Boardroom.
Vendors: Over 100 vendors will sell arts, crafts, local services, food and beverages.
Beer Garden: Featuring New Bohemia Brewing Company's lagers, wine, mimosas and spirits.
Great Food: Enjoy lots of food choices again this year including street tacos from Pleasure Point Business Association, Conscious Creations, Pono, Ate3One, Rogue Pye by Artisan Hand Food and Zameen Mediterranean Cuisine.
Your Participation Supports the Live Oak Education Foundation
The Live Oak Education Foundation is based on a strong belief in equity and that all kids, no matter their race, socio-economic background, or neighborhood deserve every opportunity afforded to their peers. This local nonprofit was established to raise money to ensure that students in the Live Oak School District have enriching opportunities in the visual and performing arts, the "STEM" fields of science, technology, engineering and mathematics, and positive play. For more information, visit www.liveoakedfoundation.org.
Follow our Facebook page to stay up to date on the latest and greatest of this year's Pleasure Point Street Fair.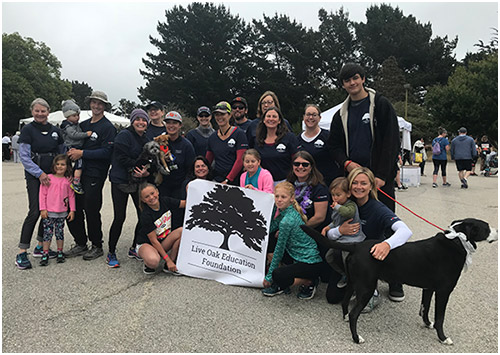 Past Beneficiaries
2013 – Ocean Seed Project
2014 – Santa Cruz Cancer Benefit Group
2015 – Surfrider Foundation
2016 – Jay Moriarty Foundation
2017 – Jay Moriarty Foundation
2018 – Live Oak Education Foundation
2019 – Live Oak Education Foundation
Past Event's Band Lineup:
Nordic Naturals Street Stage
11:00 – Shoreline Summer Band
11:30 – Lauren Wahl & Simply Put
12:30 – Moshe Vilozny -75 minute set
2:00 – Restless Souls – 75 minute set
3:30 – Crooked Branches – 75 minute set
NuBo Beer Garden Stage
12:00 – Wanni Punani
1:45 – Spazztics
3:15 – Rock City
For more information please contact:
events@pleasurepointstreetfair.com
Wish to become a Sponsor?
Click here to go to the sponsorship signup form.
Click here if you are insterested in becoming a vendor.
---
"Wanted to thank you for letting us participate in the street fair. It was so much fun! Today so many of our customers told us how much they enjoyed the event. We went thru lots of water which was great and we really enjoyed meeting the other business owners. Good job on a very successful event!"
– Kris Newland, H2O4U Pure Water
---
Bring the Whole Family For a Great Time!
---
Gold Sponsors:
Silver Sponsor:
Sponsors:
PLEASURE POINT BUSINESS ASSOCIATION
1840 41st Avenue, Suite 102 – Box 331
Capitola, CA 95010
Email:
www.pleasurepointguide.com
Website design and hosting by PPD Multimedia, Inc.